Become The Leader E

veryone Wants
The best leaders are great coaches. This 12-week program will teach you practical core skills of coaching. Learn how to use powerful questions, listen deeply and build self-awareness. You'll be known as a leader who helps people reach their peak performance at work and at home.
Is Leading with Coaching right for you?
Use coaching to help people find their purpose and peak performance.
Create environments where people find joy and fufilment.
Create change by unlocking the potential of others with coaching techniques.
Unlock the performance of teams with coaching.
Align your leadership with your core values and beliefs.
Help people find their daily 1% improvement.
Program Glimpse
The 12 weeks are structured into 6 Coaching Sprints. The benefit of this approach is that it helps you put learning into practice. Less theory, more action, real learning.
​
Describe your coaching identity and how your personal values align with coaching

Evaluate different definitions of coaching and what coaching is needed in your context

Use 7 coaching questions within a conversation
When to coach, when not to coach
Describe your coaching identity and how your personal values align with coaching

Evaluate different definitions of coaching and what coaching is needed in your context

Use 7 coaching questions within a conversation
Create a repository of great coaching questions for different situations

Build awareness of how others see you compared to how you see yourself

Identify how you can build an active listening habit
Building the coaching habit
Evaluate the differences between individual and team coaching to understand what's most needed in your context

Solve the dilemma when someone doesn't want to be coached or seems "uncoachable"

Design a coaching exercise for someone you are working with
Handle difficult situations such as conflict and challenging personal situations

Design tough feedback conversations where you may need to be direct and give difficult feedback

Help people manage their emotions in difficult situations (including your own!)
Use playful and creative approaches in your coaching

Identify your style of coaching and how you can connect with your values

Plan what habits you need to maintain after the coaching program concludes
Sample Leading with Coaching in this free 5 day program. Daily challenges delivered by email to help you build the skills of coaching.
Each day you'll be given a mini-challenge to build your coaching skills: Asking powerful questions, Active listening and Self-Awareness.
​
Whats included?
Here is what is included within the program
6 x One-On-One Coaching Sessions
At the end of each 2-week coaching Sprint, you will have a 45min coaching session. This will be used to help amplify your learning and explore your blindspots.
I've distilled the best ideas from 100's of leadership and coaching models into small, actionable challenges. The program consists of 30 coaching challenges. These are designed to be small in size but big on impact. You'll complete these in your own personal notion workspace.
For 12-weeks you will work in a small group of 6-8 business owners and entrepreneurs for one hour every week to keep you focused and accountable. Plus access to a wider network of like-minded leaders.
Who is your coach?
Hello 👋
​
I'm Toby Sinclair, the creator and coach of this Program.
​
I'm a Business Executive based in London. I've worked in Product and Tech organisations in various roles for the past 15yrs.
I have a unique blend of skills and experience that I've used to build this program. I spent 7 years working as a software developer and over the past 7 years I've been focused on the psychology of organisational performance.
​
I've been coaching professionally across many organisations. I've coached CIO's, product teams and everyone in between.
​
I'm a Professional Certified Coach (PCC) with the International Coaching Federation. Sadly many coaches are not professionally trained. To get this credential means I've completed 125hrs of training and delivered over 500hrs coaching conversations.
​
My philosophy of change is coaching. I believe that your role as a leader is to create an environment that unlocks the potential in people.
​
If you'd like to know more, here is my story.
Apply for the Program
Leading with Coaching will launch to the public in late 2021.​
​
In advance of the public launch, I'm offering 5 Free Golden Tickets to the program.
​
In return for access, all I ask is that you provide feedback throughout the course. You can help make this a program helpful for other leaders.
​
All applicants will receive a response within 24hrs.
Answering your most common questions
Whats time commitment is needed?
---
Each each 2 week sprint you'll need allocate about 4 hours. The challenges are intended to be completed within your day-to-day work. So it shouldn't take extra time. However, you do need to allocate some time to read through the challenge content and take time for post-reflections.
---
What is coaching?
---
Ask 100 people what coaching is and you'll get 100 different answers. The type of coaching explored within this program is to help you lead better. I focus more on the core skills of coaching, less on the theory and models. The core skills of coaching are: aksing powerful questions, active listening and self-awareness.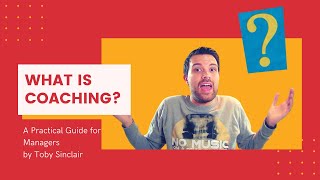 ---
How do the challenges work?
---
The program consists of 30 coaching challenges. These are small exercises that enable you to practice the skills of coaching. You'll complete these challenges as part of your day-to-day work. For example, one of the challenges you will practice using 7 coaching questions. Each challenge includes a learning outcome, a set of resources including videos and the activity itself.
---
What is Notion?
---
You'll be given a personal digitial workspace for the program. This is hosted on a tool called notion. https://www.notion.so/ To setup an account is free and it works across all device platforms. Instructions will be shared in the welcome email.
---
Is this course certified?
---
At this point no. I'm working on a certified course with the International Coaching Federation which will be avaliable in 2022.
---
---